Home » Shop » Physical » Greetings Cards » Awkwardness Dragon
Awkwardness Dragon
A6 kraft greetings card with envelope £2.50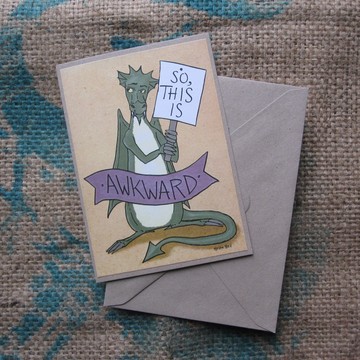 While birthday cards are abundant in the world, awkwardness cards are not. Which strikes me as an incorrect balance, since awkwardness happens on average more often than birthdays. So I have made an awkwardness card, for use in awkward situations.
Of course, this not being a very traditional thing to send a card for, using the card may have the effect of making things even more awkward. But awkwardness is in right now.
Some people I was awkwardly talking to about awkwardness* at a party suggested that a way of easing this sort of card into mainstream use might be to use it as a 'sorry I forgot your birthday' card. But it is also appropriate for many other situations (I will not try to list them here, because there is an infinite number of potentially awkward situations that haven't been invented yet and that is why they are so awkward).
The inside of the card is left blank, for you to write something awkward in.
*Except it wasn't actually awkward, because once you acknowledge awkwardness exists, it is rendered VOID. Probably.