Home » Shop » Physical » Greetings Cards » Jackdaw Jupiter Jigsaw
Jackdaw Jupiter Jigsaw
A6 kraft greetings card with envelope £2.50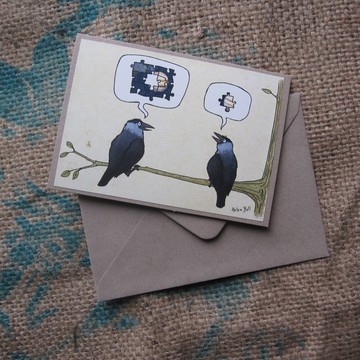 This drawing has its origins in the line "part of you pours out of me in these lines from time to time" from "Case of You" by Joni Mitchell. Which initially surprises most people.
It's because sometimes when there's most of an unwritten song in my head somewhere, which has been floating around not quite getting to being written for some time, eventually someone will say something that's the final last piece of what I needed in order to write the song. Sometimes multiple people, sometimes multiple things. So those people end up in the song, kind of.
When I tried to draw it, it came out as jackdaws and a jigsaw, and I decided the jigsaw should be of Jupiter because by that point I couldn't really not.