Sheet Music
Here's my collection of sheet music - some for viola, also violin, cello, string group, and generalised tunes and harmony parts for mixed instruments, bands and ensembles.
My tune book, 'Midnight on Platform 16B' is available as a physical printed book, and also as a digital download. All of my other compositions are pdf download only.
The scores are arranged by instrumentation. Click on a category below to see what's available for those instruments, and hear recordings of the music.
All scores come with a demonstration recording.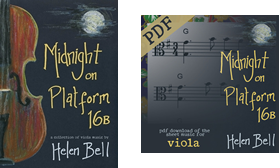 Printed book or digital download for solo viola, violin or cello. Full colour with illustrations, collage and anecdotes throughout.
New compositions for two violas
The scores for the viola-led pieces that we play in Tamarysk.
New 48 bar jigs for ceilidh bands - these tunes are suitable for violin or other instruments with the same range

Folk Viola Sheet Music Project
Traditional tunes arranged for viola: both as a solo instrument and to join in with others
Traditional Tune Harmony Arrangements
Originally conceived as harmony parts for violists to play in duets with violinists, these are playable on a variety of different string groups, up to and including string quartet.